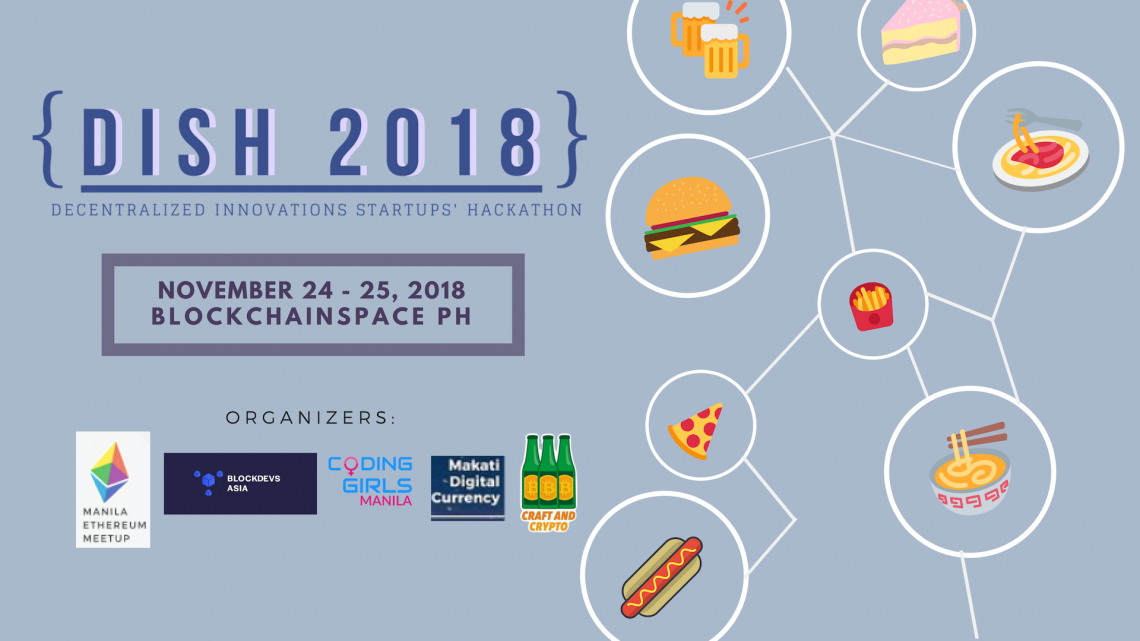 Various blockchain groups in the Philippines invite anyone who would like to hack and discover blockchain technology
MAKATI, October 22, 2018 — BlockDevs Asia, Makati Digital Currency, EOS Philippines, SCI, Coding Girls Manila, Craft and Crypto, and BlockchainSpace have partnered to bring us DISH 2018: Decentralized Innovations Startups' Hackathon, the first community-led blockchain hackathon in the country, which will take place November 24-25, 2018 (weekend). The non-stop 35-hour hackathon will be held at BlockchainSpace, a blockchain co-working space in Makati to spur innovation in application development for blockchain technology.
Most hackathons are backed by large institutions, but DISH is changing this long-standing practice by bringing various groups in the crypto space to collaborate in this one-of-kind code/design fest. Organizers of this community-centric hackathon are volunteers and practicing professionals in the blockchain space who believe in the potential of this technology and aim to build a vibrant community.
As a primer to DISH, the blockchain community will be hosting DAppetiser on Thursday, November 8th at 7:30PM. Taking place in The Bottle Shop BGC, this introductory networking session is meant to connect all organizers and participants in one location. In any case, if you're interested in learning more about DISH, looking to join a team, or just want to casually network with people from the community, then this meetup is for you!
DISH hackathon would not have been possible without the partnership between the local blockchain community and the generous support of SCI Ventures Inc, ConsenSys Philippines, NEM Philippines, and EOS Philippines.
The event will be covered by BitPinas, a Philippines-focused blockchain news website, Asia Blockchain Review, an Asia-facing media news and community platform and BitChikka, a local digital media for blockchain and crypto assets.
The blockchain industry thrives as it attracts huge interests from different professionals and companies. The DISH hackathon is one of those events that encourages professionals and enthusiasts to adopt the technology. It is more than a tech-driven event, it is an opportunity to acquire new skills and network with the people in the industry. The organizers understand that blockchain is still at its nascent stage and have set a level playing field by considering this fact. The hackathon is aiming to bridge the gap between the technology and the talent and skills required by the industry.
Startups, students and groups who are interested to learn about the technology are all invited to participate in the startup challenge, which will start at 7 AM and will end on the following day at 6 PM. It is also open to non-developers and coding enthusiast who aspire to build amazing and cool blockchain products. The DISH website and community channels and BitChikka website will release full details about the hackathon, which include sponsors and the background of the participants, a week before the event.
To find out more about the DISH 2018: Decentralized Innovations Startups' Hackathon, visit the link below.
Event Details
Date Start: November 24, 7 AM
Date End:  November 25, 6 PM
Location: BlockChainSpace, Acceler8 Coworking space, LG, 111 Paseo de Roxas, Makati, 1229 Metro Manila
Technology: Blockchain, Ethereum, EOS, NEM
Admission Fee: Free
Sign up: https://dish2018.typeform.com/to/DQ1piM
Contact info
Chris Verceles
ConsenSys
chris.verch@consensys.net
Rafael Padilla
Cofounder – Blockchain Association of the Philippines
Caspar Oostendorp
Oost&Voort Inc
caspar@oostvoort.com
About DISH
Website: https://dish2018.com
Meetup: http://meetu.ps/e/FNPjH/C7l6c/a
Support
Our community is growing steadily. As such we would need additional resources to sustain each session. If you wish to volunteer, sponsor or contribute to this event, please contact our organizers.